-35.77279 lat. 137.77589 long. (35°46'23"S 137°46'32"E)
A single-unit bed and breakfast, providing privacy and comfort for two persons. Warm and cosy European-style design, with boutique character.

Please note that, after 15 year of activity, our lodge HAS CLOSED on 2016.02.01 -- Warm thanks to all our guests.
You are welcome at À bientôt Seayu Lodge, a property with panoramic views over the lagoon and the harbour, over the countryside, and over the larger island across the sea (the mainland). It's a quiet place dedicated to peace and beauty, with big trees, singing birds, gliding pelicans and numerous wallabies hopping around. Here, one can dream, night and day, think, contemplate and meditate.


Your hosts are Jacqueline & Gabriel Bittar (c.v.), a couple (profile) from French Switzerland. Our guests enjoy a warm reception and attention to detail. The magpies improvise fluting serenades, and Chatoune, serious and attentive, might deign to visit you impromptu.
Guests have private access to their Lodge, which is separate from the hosts' house, as well as a private portico with pergola and garden.
The beach, the bus-stop and the general store are less than ten minutes walking distance. The main features of the Island are only a five to ninety minutes car-drive away.
wooded savannah park
, a pond and a sheltered ravine with sun-lit clearings. It is endowed with majestic
Eucalyptus cladocalyx
trees
and multi-centenarian
Xanthorrhoea
yacca grass-plants; it provides a refuge for a range of rare and charming animal species, including the
echidna
(an egg-laying mammal), marsupials such as the
Tammar wallaby
and the acrobatic
brush-tail possum
, as well as many species of lively birds. Here rules the ethical principle of
avihimsâ
and no violence is done to sentient beings.
You may sit by the pond and watch them drinking; wander through the domain, planted with more than a thousand bushes and trees - hundreds of species and varieties -, strolling leisurely from delightful landscape to beautiful scenery. And you may cross the path of Chatoune, grey whiff of a shadow, discreetly inspecting her territory.
Please note that as most of the domain is kept in a natural state; it includes rough terrain in some places and potentially dangerous animals such as snakes or spiders, so visitors walk there at their own risk (insert here the usual disclaimer blahblah, a social poison from the US legal system which is inexorably corrupting all human societies).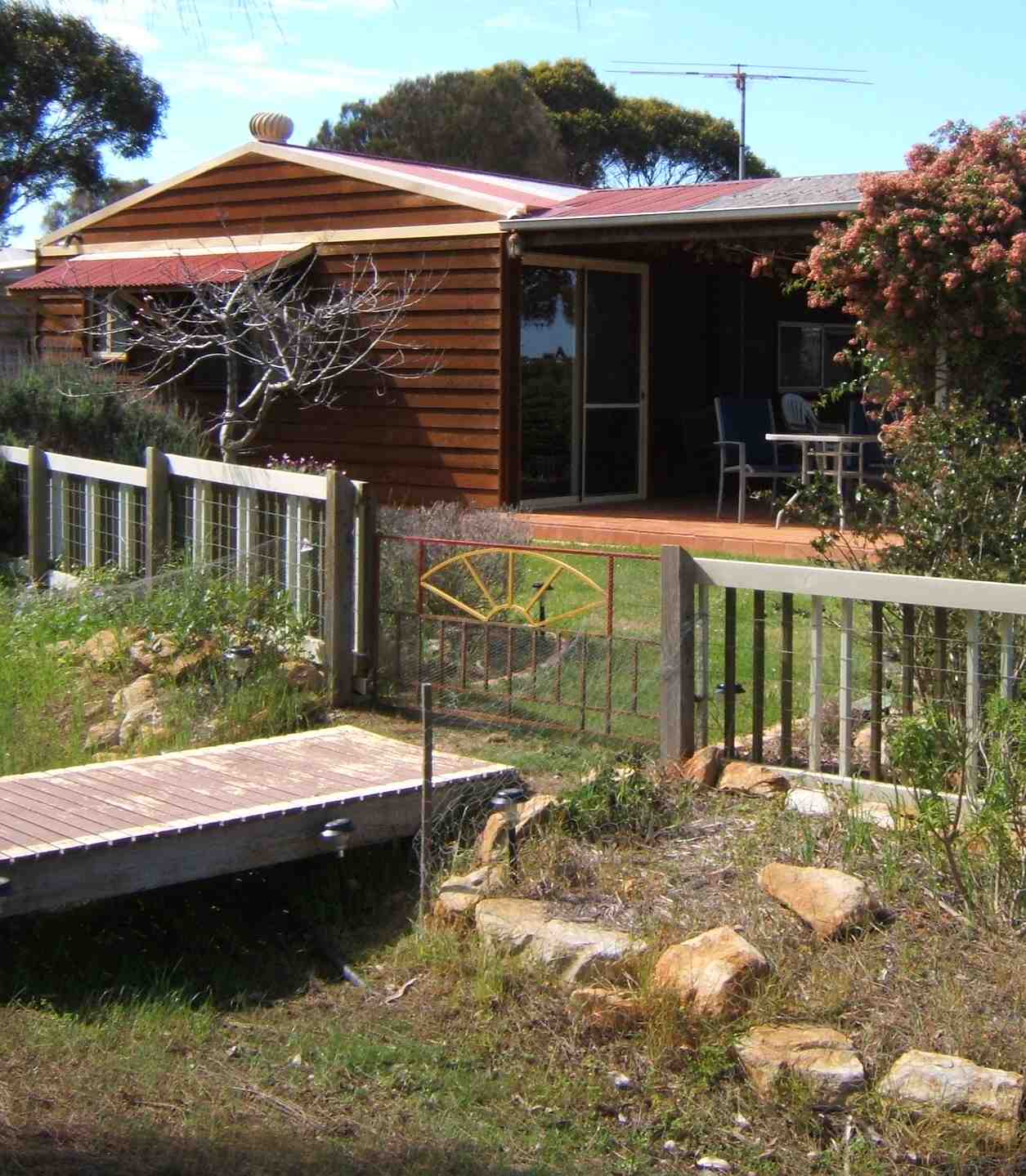 The whole domain provides a smoke-free environment - Australia is a bush-fire country. Accordingly, smoking is permitted only just outside the Lodge building, under the porch.
Our facilities have been designed as an adult retreat for discerning travellers. Access to the meditation room is free, and so are teachings of philosophy and Buddha-Dhamma provided there. Otherwise no proselytism.
Restaurants nearby (a 10 to 15 min. walk) provide meals. Tired and hungry guests can get from their hosts a snack consisting of Island cheese, olives, walnuts, bread and/or crackers, for AU$ 15.00 per person, as well as, for an additional AU$ 5.00, a glass of red or white wine.
Out of consideration for the local wildlife, and so as to preserve the quiet atmosphere, we regretfully cannot accept every breed and species of animal companions - please enquire. An additional AU$ 15.00 per night applies for each four-legged friend. Please note that government health regulations prevent accommodation businesses from allowing animals inside.
Current vaccination certificates are required to be presented on arrival, including proof of annual boosters; they must be clearly labelled and signed by the vaccinating veterinary. The vaccinations required for cats and dogs are listed HERE. Please don't call in if you cannot provide valid documents of vaccinations.
Postal address (CLOSED):

American River, Kangaroo Island
South Australia 5221
Phone no.:
CLOSED
Mobile/cell phone no.:
CLOSED
Fax/facsimile no.:
+61 8 8553 7444
Email (CLOSED):
Office hours:
CLOSED
Local time-zone is GMT +09h30 (allow for +1h when "summertime" is in effect in South Australia)
All

prices

are quoted in Australian Dollars (AU$),
they are the same for one or two persons.

AU$ 200.00

for the first night


AU$ 100.00

per night for the second and following nights.

Note:

A 10%

discount

applies for all guests aged 60 years and above, academics, researchers, teachers, artists, writers and retreaters. Discount applies only when directly booking with us. We may ask our guests to provide some proof of their belonging to one of these discount categories.
Please check first with us for availability, and contact us for determining the method of payment: MasterCard, Visa, crossed bank-cheque or EFT (electronic fund-transfer) to our bank account. Reservation becomes effective on receipt of the booking deposit, which is limited to AU$ 100.00. Should you cancel your reservation, for legitimate reasons and with reasonable advance notice, your deposit will be valid for a time period of 12 months starting on the commencement date of the initially projected stay - after the expiration period, the deposit will no longer be redeemable.
The guests' entry is at the top end of Warrawee Road -- warrawee basically means, in a number of aboriginal languages, "welcome, come up and rest" --, their lodge is ten metres distant from the hosts' house (located at 34 Falie Court).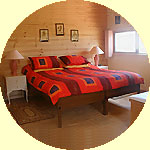 Check-in time:
any time between 14:00 (2pm) and 20:00 (8pm), but guests are to notify hosts of their approximate arrival time at least 24 hours in advance.
Check-out time:
any time between 06:00 (6am) and 10:00 (10am), but guests are to notify hosts of their planned departure time at least 12 hours in advance.
Included services:
continental breakfast; daily cleaning and bed-making; daily change of towels; for long-term stays, bed linen is changed every 5th to 10th day; other arrangements are possible on request.
Bedding:
two comfortable individual beds. Please specify at reservation if you want them separate or joined together as a king-size bed.
Kitchenette:
microwave oven, kettle, toaster, refrigerator (situated in an adjacent room so that you may fully enjoy the quietness of the Lodge).
Within their lodge, guests have their own bathroom with shower, with easy access to laundry and ironing board.
Heater and air-cooler.
Bilingual (French-English) guests' library, with more than 240 books.
For bookings or any other enquiries please use the form below
(CLOSED).
À bientôt in French literally means "pretty-soon" - so see you pretty soon at our sea-view lodge on Kangaroo Island !